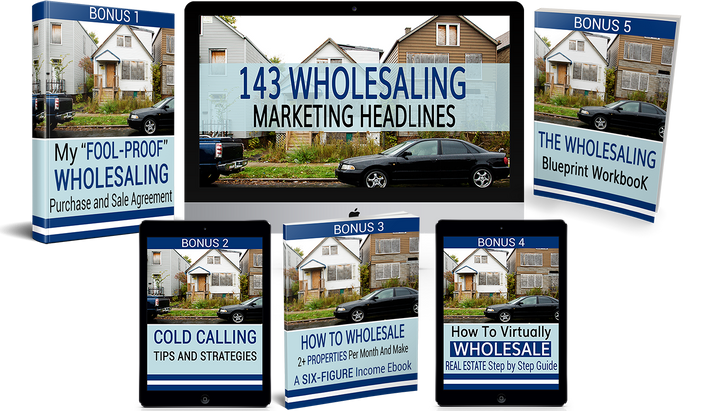 Wholesaling Marketing Headlines
These headlines are written by copywriters to put your marketing on auto-pilot!
As a real estate entrepreneur marketing your business, your headline is the first impression you make on your prospects and its value is very critical to your online conversion which directly affects your sales.
Here are all the real estate wholesale headlines you'll ever want or need, organized into incredibly useful categories (way more useful than those other inferior lists) and written by people with direct, hands on experience in real estate marketing.
Good headlines captivate your prospects. And if you can't secure the attention of your prospects, nothing else matters because you'd not be able to do business with them.
Never worry about headlines in your wholesaling marketing ever again…
The Headline is an important aspect of the content that you use to promote your real estate business and a lot of investors spend way too much time and energy trying to craft the perfect headline.
Shocker is that only a few of them succeed in creating headlines that grabs the attention of their prospects.
Why waste your time and mental energy trying to be creative looking for the perfect thing to write when everything has been done for you on a platter in this phenomenal headline stash.
---
Never worry about creating powerful headlines again

No more writer's block in your marketing campaign
Headlines exactly when you need them
---
These headlines are strategically written attention-grabbing statements that are used in copywriting of wholesale real estate marketing for the sole purpose of engaging your prospects and selling to them effectively.
It's a no brainer package for real estate enthusiasts and investors who have difficulty coming up with interesting headlines and content to captivate their prospects and hook them to their offer.
No more wondering "how am I going to introduce my real estate sales offer to my prospect?"

Good riddance to ineffective Facebook ad headlines and content
Written, Tested and Proven by professional copywriters
---
Every single one of these headlines were created by our professional copywriters with a combined experience of 16 years specializing in real estate marketing.
These headlines have been tested and proven to boost sales, brand awareness and online conversion in the real estate industry.
More than just your typical Headlines…
---
When it comes to the wholesaling industry, your marketing needs to be air tight and well-rounded from your landing page to your social media posts.
That's why we've categorized the headlines into sections to reflect the multiple online marketing channels to reach your prospects including social media, web articles, landing pages, email subject lines, online ads, DMs and Text messaging.
---
Did you know that over 90% of text messages are opened by the receiver? That's why it's one of my favorite ways to reach out to people for business. These text message openers are designed to start or continue the conversation with buyers or sellers.
They work exceptionally well for:
Confirmation if a seller wants to sell their property

Checking if a buyer is looking for more deals

Sending out deal information to buyers you've already been in contact with
It suffices to say we get a good percentage of deals sold with just a simple text to a buyer.
Sell-side Marketing Headlines
---
Are you looking for compelling words that gets attention and facilitates deal transactions?
These set of marketing headlines are quite promising and have the highest conversion rates in our wholesale and real estate business. They are multifaceted and can be used on any of your sell-side marketing material including emails and craigslist post titles.
The sell-side headlines are designed to create a feeling of urgency or scarcity in the buyer's mind for motivation to take immediate action.
---
Do you ever wonder what to write to effectively reach the millions of prospects on social media channels like Facebook, Instagram, LinkedIn and Twitter who want to buy or sell properties?
These social media posts are carefully designed to attract help you attract leads and connect you with other professionals in your market. It is also works for:
Finding motivated real estate sellers

Building your cash buyers lists

Soliciting deals from wholesalers and real estate agents

Connecting with other real estate professionals like title companies and contractors

Finding "house hunters" who will send you deals for a small commission at closing.
Online Ads/Articles Headlines
---
One of the best ways of getting leads is by providing value first through content creation. It's for this reason we have crafted value-packed headlines to get you started with the creation of engaging content that serves your customer base.
These headlines have powerful SEO value that complements your content to rank higher in search results, giving your website more authority in your industry and market. With these amazing headlines, you can:
Connect and easily impress buyers or sellers with your value content

Create successful online ads that sells

Increase your Google rankings for specified search results.
---
Discover engaging openers you can use to message people directly on social media such as Facebook, Instagram, LinkedIn and Twitter. These openers are effective in sparking up a conversation with a potential cash buyer or motivated seller.
They especially work brilliantly when used in response to an investor posting about a deal that they've just closed or a seller mentioning they have a property they need to sell.
Taglines/Slogans/One-Liners
---
Are you trying to build your brand from scratch or maybe you just want to rebrand your real estate services?
These slogans are designed to help you create your brand identity in ways that resonate with real estate buyers and[ sellers. They work superbly as the tagline below your logo and can also be used as a signature statement at the bottom of emails you send out.
Capture people's attention using these one-liners on social media posts or when doing paid advertising. Don't overthink it. Just pick a tagline that fits your business goals and watch it work for you.
When it comes to wholesale real estate (or any kind of business for that matter), you need all the help you can garner to ensure you succeed and make huge profits.
Accompanying the 143 headlines, is our FULL STACK bonus content to help you become more successful in this wholesaling properties
---
Written By Professional Copywriters
143 Wholesaling Marketing Headlines
---
I went out and spent thousands on professional copywriters so you don't have to! These headlines are proven to boost sales and increase conversions
My "Fool-Proof" Wholesaling Purchase And Sale Agreement
---
This is the official legally binding contract we use to buy and sell real estate without fail. It contains all the terms and conditions that favors both parties involved and it is enforceable under the law.
Cold Calling Tips And Strategies
---
Professional tips from our "rockstar" real estate closers on how to sell and buy properties over the phone. With it, you will be well equipped to overcome objections over the phone and turn a "no" to a "yes".
How To Virtually Wholesale Houses Step By Step
---
Discover how to carry out wholesale research, strategy and execution to find motivated sellers in virtual markets who are willing to sell at a wholesale price. You will also learn how to automate this process, so it works on autopilot and make more money from wholesaling.
How To Wholesale 2+ Properties Per Month And Make A Six-Figure Income
---
This is a step by step guide to earning $10,000+ per month wholesaling houses with other people's money. It contains all the tools and techniques you need to find cash buyers and motivated sellers and make most importantly, make the deal happen.
The Wholesaling Blueprint Workbook
---
Get practical exercises and checklists you can engage in to get you started profitably in your real estate wholesaling business. It includes professional tips from a 7 figure real estate expert on how to build your own real estate business from scratch.
Yes, I Want the Wholesaling Headlines to Facilitate my Deals
Get access to my killer headlines and 5 other bonuses to explode your income making 6 figures in real estate wholesaling. This offer is shown only on this page and it is available right now.
This is the same content that my team and I are using to make a 6 figure income buying and selling properties. Take advantage of this offer and start building your own real estate empire too.
---
For a whopping no-brainer offer you see down below!
Your Instructor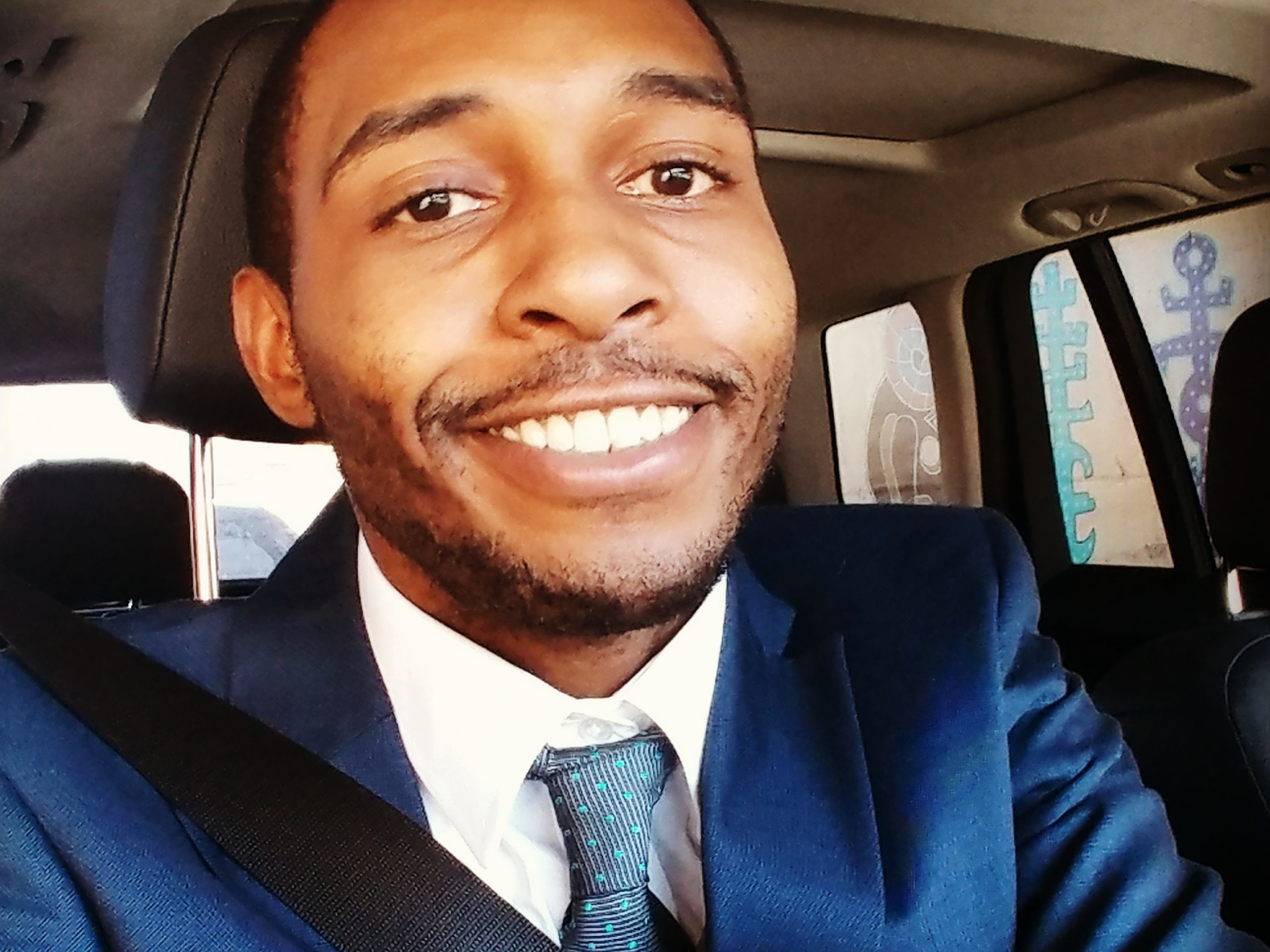 Ed Hayes The Wholesale Coach is an author, real estate investor and entrepreneur from Chicago, IL. He coaches students across the nation to source and close wholesale deals. His YouTube channel has featured the likes of Dara Abasute, wholesaler and YouTuber from Atlanta as well as Chad Corbett from All The Leads, one of the nation's leading probate experts.
Author of You're Only One Deal Away: A Roadmap To Build And Scale Your Wholesale Real Estate Business
, Ed knows his stuff and built this course so you can clone his system.
Course Curriculum
143 Wholesaling Marketing Headlines
Available in days
days after you enroll
Bonus #1
Available in days
days after you enroll
Bonus #2
Available in days
days after you enroll
Frequently Asked Questions
When does the course start and finish?
The course starts now and never ends! It is a completely self-paced online course - you decide when you start and when you finish.
How long do I have access to the course?
How does lifetime access sound? After enrolling, you have unlimited access to this course for as long as you like - across any and all devices you own.